History of Kochville Campus' Buildings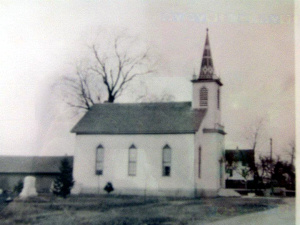 In 1857, Jacob Krehbiel, a pioneer of German Methodism, came from Saginaw to preach to the German settlement of Kochville. Ministers were sent from both Saginaw and Bay City to meet in the church members' homes. By 1860 it was decided a more permanent meeting place was needed so Gerhart Krapohl donated and acre of land—where the cemetery is now located. An available house was bought and moved onto the corner. In 1864, a belfry and bell were added to call the people to worship in the Kochville Methodist Episcopal Church.
In 1873, the growing membership needed a larger church. Each family gave what money they could afford plus their time and labor. For $1,500, a new church building with a high tower and glittering spire was built debt free. In 1881, the church was known as Kochville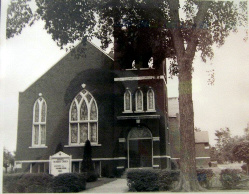 German Methodist Episcopal. As the 20th century was well underway, a new church building was proposed. On May 10, 1925, the cornerstone was laid for the new $32,500 church that would accommodate its membership of over 200 people.
On June 15, 1955 at 2:00 am, cries of "the church is on fire!" were heard in the night. Plans to rebuild were made immediately following the complete destruction of the beloved church building. The fourth, and present church building, was consecrated on May 20, 1956.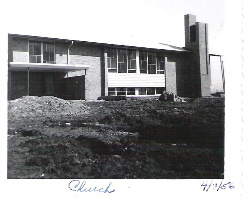 On Easter Sunday of April 1967, ground breaking took place for the new addition, which consisted of a new entry, pastor's office, three classrooms, and a storage and furnace room.
There have been many changes to the Kochville United Methodist Church, but we are still the Heart of the Community because we have had a great foundation.
We are eternally grateful to our ancestors who left us a great heritage of devotion, sacrifice, and love for God and all of His children.